Final Forms 23/24- Extracurricular Activity Forms
---
"FINAL FORMS"- Thatcher Unified School District
Thatcher Unified School District will be using a new athletic data system called Final Forms to manage our extracurricular activities forms for the 2023-2024 School Year.
This means all families will need to create an account and add their Students along with all documentation for eligibility.
Questions regarding your account, please email:
Natasha Petersen: petersen.natasha@thatcherud.org
OR Tye Stewart: stewart.tye@thatcherud.org
*This is for all Students that participate in the Following:
Sports (THS/TMS)
Knowledge Bowl
Choir (THS/TMS)
Show Choir
FCCLA
FBLA
Skills USA
Band (THS/TMS)
Orchestra (THS/TMS)
National Honor Society/Jr National Honors Society
Robotics (TMS)
Any and all activities that require travel
Click the Link below to Login to Final Forms if you have already created an account
If you had a student participate in a spring sport 22/23 you should have already created an account.
All you need to do is login and update your information for the 23/24 school year.
Under "My Students" Click "Update Forms" and verify/update any information for 23/24. It will prompt you at the end to print out the AIA physical paperwork if needed.
Students interested in participating in any sport for the 23/24 school year at Thatcher High School and Thatcher Middle School (this includes includes incoming 7th graders) are eligible (and encouraged) to attend a FREE physical clinic on either May 5th or June 2nd.
Step by Step Process on how to Create an Account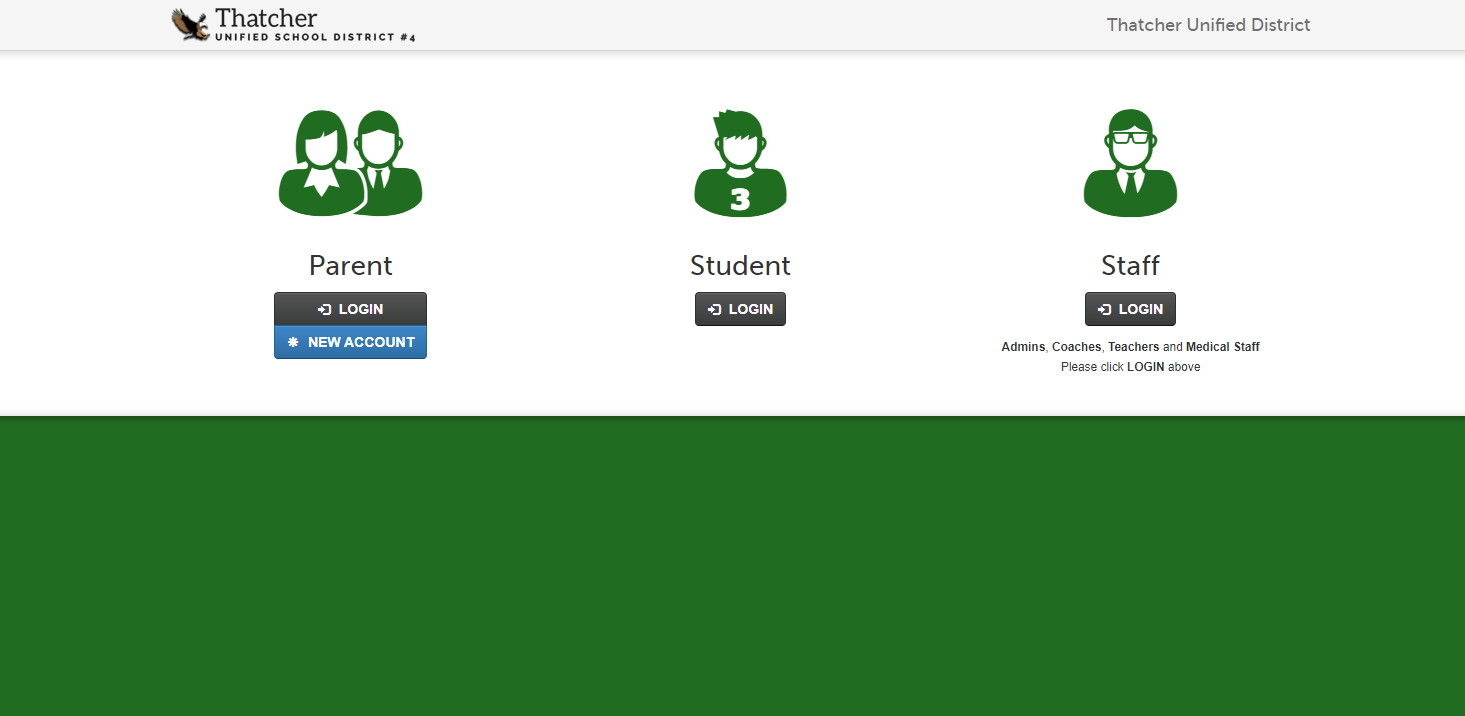 You will Register as a Parent and enter YOUR name and DOB and Email address.
The *Enable Translation will give you the option to change the language (ie. Spanish)


Once you have filled the initial information, hit the blue "REGISTER" button.
You will receive a confirmation Email with a link to confirm your Account

Click the Link and proceed to add your Students.
Follow the instructions, complete the list of Tasks and upload your Forms as instructed.
After AIA "Consent to Treat", your Student will be responsible for completing their portion of the Forms.
Your Student will need to Create an account.
They will do so by using their thatcher student email:
Thatcher Student Email: stu.lastname.firstname@thatcherud.org
Once Your Student has completed their portion, you will be prompted to finish completing your part.

**There is not a Final Forms APP available at this time.**
We recommend saving the homepage link to your home screen so it is easily accessible and convenient to access.
Here are instructions on how to do that:
Click on the 3 Dots at the top of the page:
click on the "Add to Home Screen":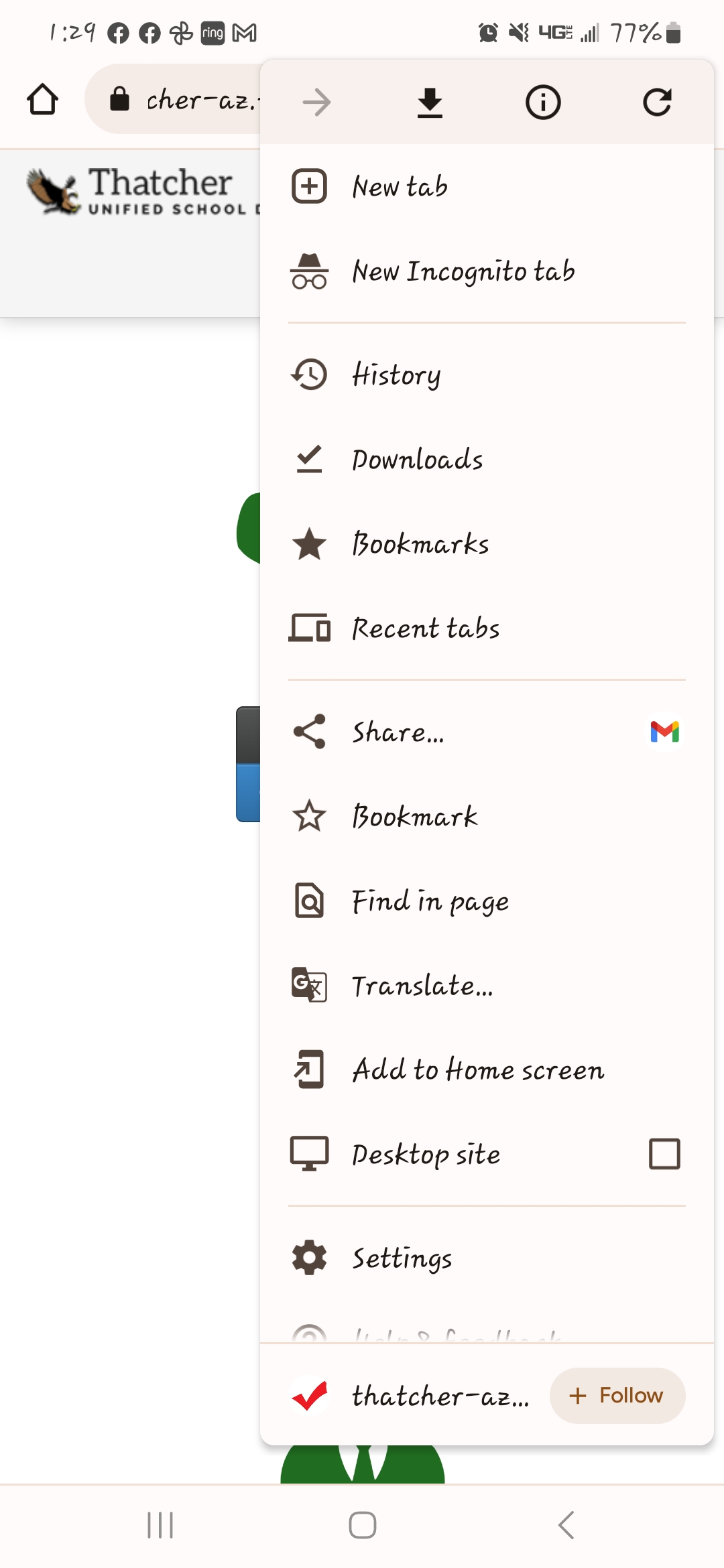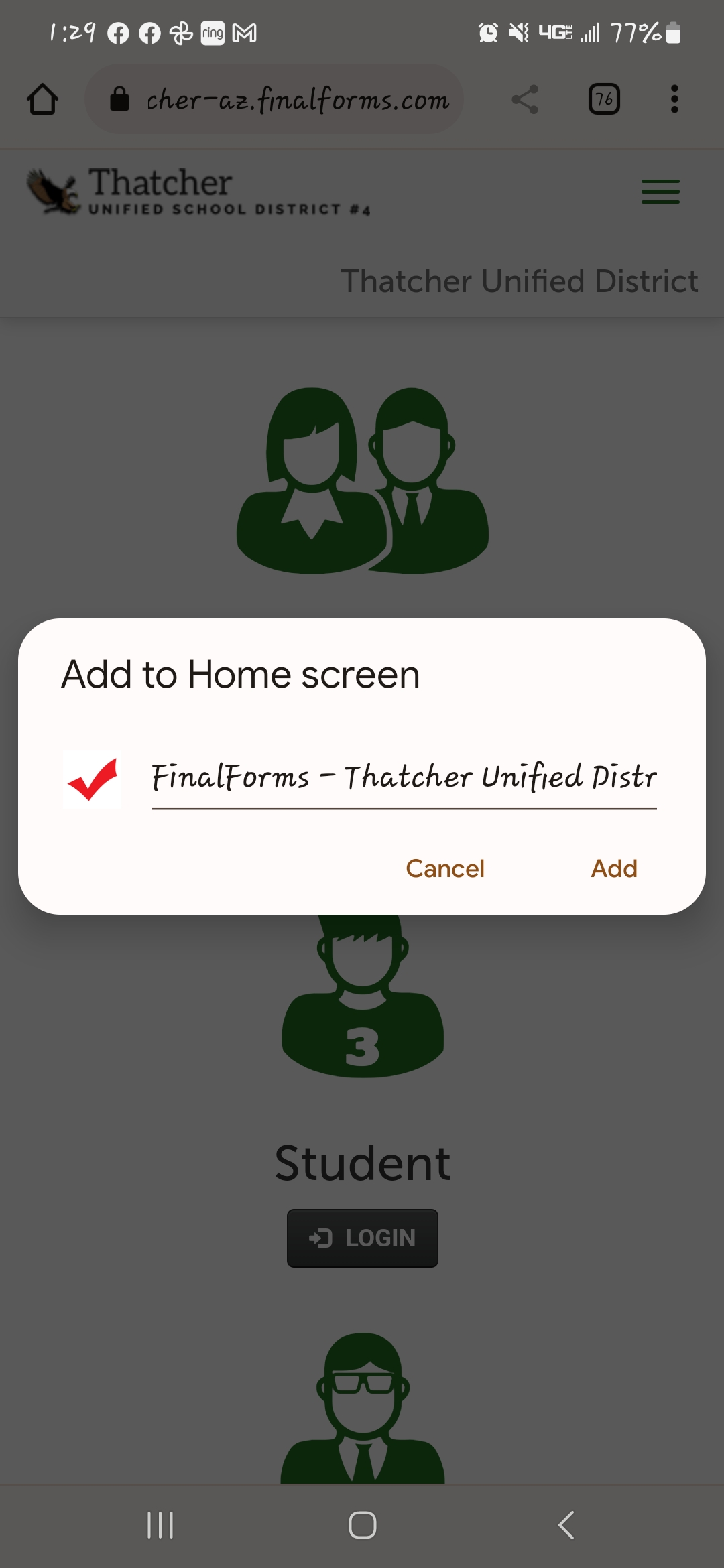 It will appear on your homescreen